House of Laura B
Mesh and chainmail luxury accessories designer
Laura Bortolami
Born and raised in Italy, Laura moved to London in the earlies 80s to take a sabbatical year before starting university. Experience that she considered the most eye opening for her future to come.
Thanks to her strong capabilities to learn languages and the high interest for them since her early stage of life, she moved to Geneva where she started studyng translation specialized in Law and Economics.
During her studies she would go back and forth to Paris and London, where she was inspired by the music and art in both cities.
After finishing her studies she went back to her beloved Italy, and established herself in Milan, where she had the first direct encounter with the biggest and most glamorous fashion houses in the world.
The experience of working for over 15 years with Versace, Armani, and Dolce & Gabbana prepared Laura for her future enterprise. She learned the commercial side of the business.
Where everything started…
In the early nineties, thanks to the her work's flexibility at Dolce & Gabbana, and to the opportunity given by Andrea Sargeant friend and designer, Laura went to India with the project of creating the accessories for Andrea's first Milan fashion show.
With India in her heart, Laura moved to Avignon, south of France, where she started designing her own collection of jewelery.
A mix of 'brocantes' vintage pieces that perfectly fit with the 1970's revival taking place at that time. Since each piece was unique, so was born the 'Laura B Collection Particuliere'. Pieces that right from the beginning attracted a very selected market.
In 1995, Laura moved to Barcelona where she is currently still leaving. In 1999 she left Dolce & Gabbana to dedicate herself only to her collection.
The evolution
While experimenting with different materials like silk, lace, chains, semi precious stones and more, Laura came across the mesh: a metallic fabric used in the 20s for evening bags. She was fascinated by its light and texture. And from then on, it has been Laura's constant challenge to find renewal within the limits of one material, the mesh. In the beginning only for the jewellery but soon making belts and bags.
Through the collections the mesh took more relevance and little by little became the signature material of the brand. Women's mesh bags are nowadays a very strong part of Laura B.
In 2003 the Men's collection was born. Cufflinks, were accompanied by more jewellery and belts. Old coins, stones, sterling silver and a hint of mesh.
In the latest collections Laura has been introducing a new direction where leather and exotic skins win relevance over the mesh.
Mesh & other materials
Nowadays Laura still enjoys mixing different materials from different places and combines the mesh with stones, chains, crystals, horn, leather, crocodile, python, feathers, silk, lace, coins and further more.
The expertise with mesh brought her to collaborate with other brands. For Jean Paul Gaultier, she made his mesh fabulous dresses, jackets and accessories for Haute Couture and Pret a Porter.
Laura B maintains after so many years, her handmade soul. All her pieces are carefully made by hand one by one in her atelier in Barcelona.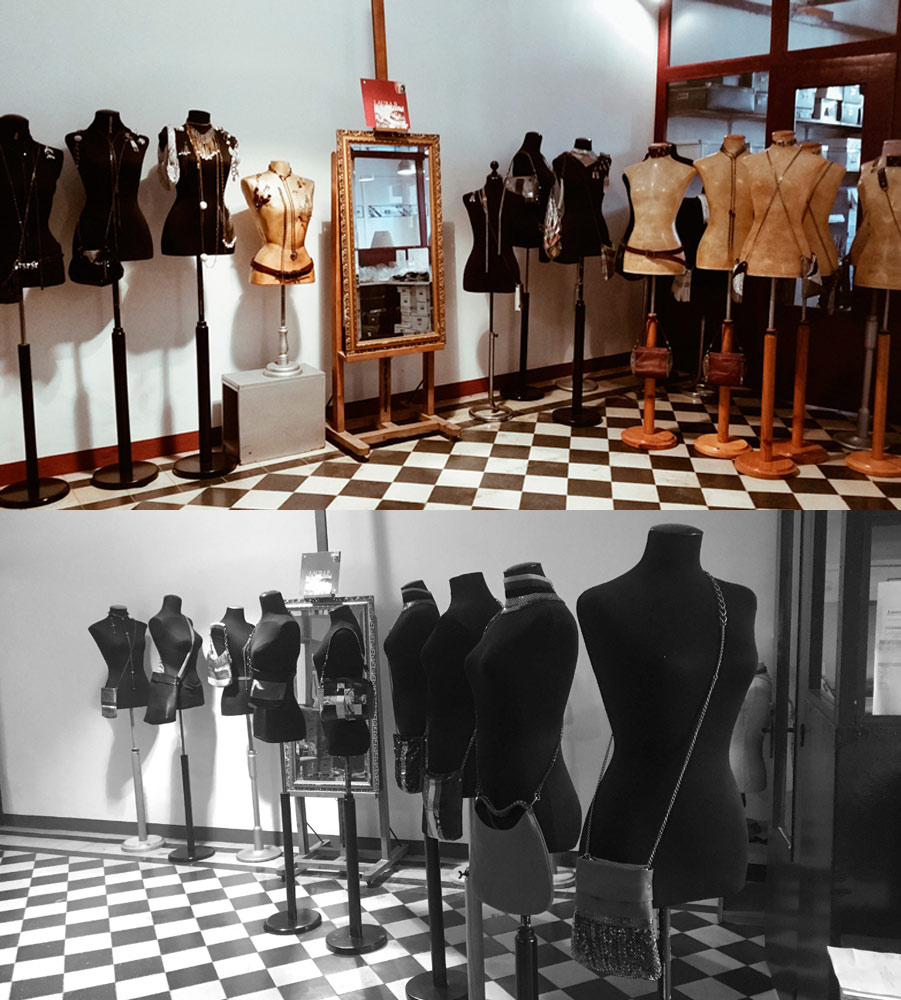 The Atelier
The two floors' building with high ceiling open space and victorian chequer tiles floors has been for over 5 years the atelier of Laura B.
The atelier is situated in Poble Nou disctrict, one of the most genuine and prolific metropolitan scenarios of Barcelona city.
All the process, from the first sketch to the last details are produced in the same place. A group of artisans lead by Laura, day by day develop new ideas for the collection to come. As well as the production of the latest collections presented during fashion week in Paris.
Laura has often been collaborating with young creative in new projects with the objective of giving this 20 year old brand a constant new breath.
The atelier reflex craftsmanship, creativity and hand made soul, the three fundamentals of the brand's identity.